Image
Providing the Best Pest Control in Fort Worth for 30+ Years
What kind of problem are you having? Select all that apply.
Pest Control in Fort Worth
With 30 years of experience in the industry, Myles is a great choice for quality pest control in the Fort Worth area. We've lived among the sprawling city lines of the area long enough to fully understand the pest problems you're facing. That's why we offer the necessary treatments to deal with any issue at an affordable price. Check out our 5-star reviews for our pest control services in the Dallas/Fort Worth Area. We offer pest control services for the following invaders:
Cockroaches
Spiders
Ants
Silverfish
Crickets
Scorpions
Stinging Insects
And more!
100% Satisfaction Guarantee
When you work with us, you're family. We want the best for our family, so we provide the best for you. With our 100% satisfaction guarantee, you can be sure that if pests return, so will we. We offer simple and easy payment options, so you can pay for your services in a way that works for your budget. Our first inspection and estimate are free!
Image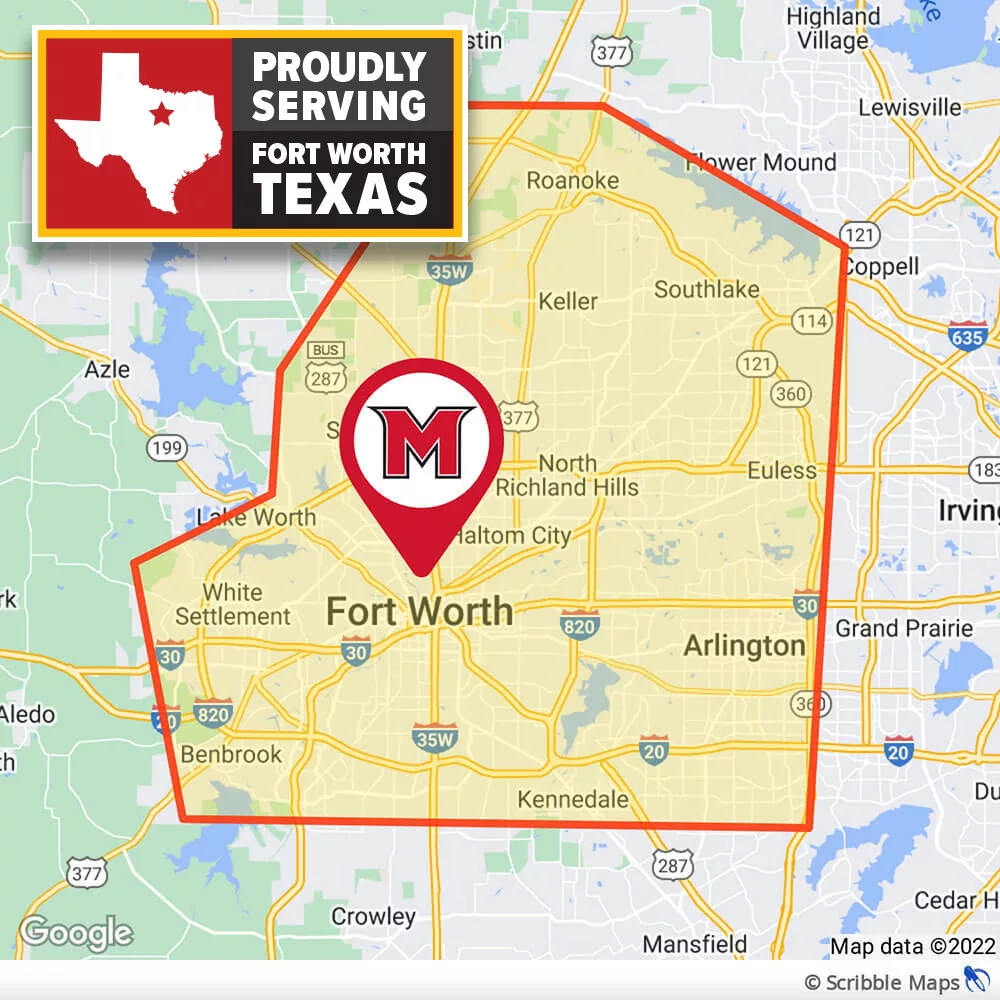 Affordable Pest Control Solutions
Our pest control services are tailored to meet the needs of pest threats specific to the Fort Worth area, and they're customized to fit the exact needs of your home. Our proven process tackles the unique risk factors facing you, your family, and your home. Our treatments are guaranteed to get rid of pests long-term. We provide: 
A detailed inspection from our exterminators.
Honest communication about our pricing, methods, and what to expect. 
Your first treatment on day one, so you can be protected even faster. 
Tri-annual treatments formulated to defend your home year-round. 
Get 25% off our Silver or Gold plan with our Outdoor Living Program!
Mosquito Control in Fort Worth
Here in Texas, our warm climate means more occasions to spend time outside with friends and family. However, it also means more opportunities for mosquitoes to take over your yard. Not only are these pests generally unpleasant, but they can also carry harmful diseases like Zika, West Nile Virus, and Yellow Fever. Don't let these pesky insects drive you inside. Rely on us for mosquito control, and we'll have your backyard ready for entertaining again in no time!
EPA Approved Mosquito Treatments
Our mosquito services are carefully designed to target populations when they're most active. We strategically treat your yard from March to October so you can enjoy taking advantage of warmer months without the fear of itchy bites. When you rely on our expert exterminators in Fort Worth, you can expect:
Meticulous pre-treatment inspections to pinpoint and eradicate potential breeding grounds.
Utilization of comprehensive solutions in high-risk areas to eliminate adult mosquitoes and larvae.
EPA-approved formulas that have been highly tested to ensure your children and pets stay out of harms way.
With 30 years of experience serving our neighbors, we are ready to tackle any infestation you may be facing. Call us today at 817-835-9005, we'll make your mosquito problems fly away!
Termite Control in Fort Worth
Are termites invading your home? Stop them in their tracks with our proven treatments. We have been providing effective termite control services since 1989 and we know what it takes to keep your home protected from them long-term. Our experienced local exterminators begin each service by doing an in-depth termite inspection to determine the level of risk to your home or the extent of your infestation. Some common signs of activity our exterminators will look for include:
Discarded wings and droppings.
Mud tubes on the foundation of your home.
Hollow sounding or sagging wood.
Uneven or bubbling paint.
Once we have identified the areas conducive to these insects in and around your home, our techs will provide honest and reasonable recommendations on how to resolve the issue. We will guide you through the entire termite treatment process so that you are informed every step of the way. Trust our experts to get rid of pests and protect your home today!
We Use the Sentricon® System 
Our most effective and popular treatment is the Sentricon® System with Always Active™ technology. This pest solution completely eradicates the current infestation and protects your property from future attacks. This specialized baiting system works to kill pests by using their foraging habits against them, causing fatal results for the entire colony. The Sentricon System is family and pet-friendly and is regarded as the go-to choice for termite control. Active from the moment it's installed, this system will keep your house protected and your mind at ease from the threat of future activity and damage.
Financing Options 
To best enable you to protect your home without breaking the bank, we offer financing options to our customers. We believe everyone should be able to live in a protected home. Effective termite treatments don't have to be financially impossible. Get your free termite inspection and estimate when you contact us today.
Rodent Control in Fort Worth
Mice and rats are resilient pests that reproduce rapidly. By the time you identify a rat problem in your home, it can escalate quickly into a major infestation. If you need a rodent exterminator, we are happy to offer quality control and exclusion. Our rodent removal services include:
A free inspection of your home inside and out to figure out where these pests are gaining entry.
A customized treatment plan utilizing bait boxes, snap traps, glue boards, and more to tackle your specific problems.
Home repairs to block entry points and prevent them from coming back.
Recurring service visits to provide long-term protection.
Rodent Control That Puts You First
Rodents can carry bacteria and diseases, invade your food sources, and cause damage to your home, so we want to make sure we make getting the help you need as easy as possible. That's why we offer fairly priced packages and accept monthly payment plans and easy-pay billing options that can work with any budget. If you are looking for a rodent exterminator, you can count on our team to put you first. Myles Pest Services is here to help you get rid of rodents quickly for your peace of mind.
Ant Control in Fort Worth
Whilst these bugs may be tiny, an ant infestation can quickly overrun your home if you're not prepared. If you need some help to get rid of ants then make sure that Myles Pest Services is your first call. Our trained local exterminators have years of experience with ant control in Fort Worth and will be able to answer any questions and concerns you may have. Rather than risking store-bought ant control methods, go for the guaranteed solution. When you chose our ant exterminators, you can expect:
A comprehensive home inspection by our trained exterminators to examine your home for ant location and likely entry points. 
Custom treatment options are developed specifically for your home to make sure that you receive all of the treatments that you require.
Fast-acting treatments using only EPA-approved products to ensure complete ant removal.
External treatments to help prevent any future infestations. 
Recurring treatments are available to help keep you protected all year round. 
Our Guarantee
Should pests persist in between scheduled treatments, simply let us know and we'll re-service your home for no additional cost to you. That's our guarantee to you!
Image